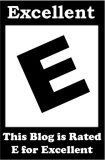 Thanks Jimmie for the award. I will wear it proudly. :)
According to the rules, I will need to pass it on to ten other blogs.
Here are some blogs I think are worthy of this excellent award. (in no particular order of course)
1.
Peakmore Academy
2.
Hearts and Trees
3.
Wildflower Morning
4.
Sunny Homeschool
5.
Percytruffle's Place
So will I get in trouble for only presenting the award to 5 blogs? I hope not. Many of the blogs I wanted to pass the honor on to have already received it.
Enjoy the blogs.
Barb-Harmony Art Mom